Preamble
Thanks so much for the fun tag Megan from A Geeky Gal! I am so excited to answer these questions!
1. What's your usual Starbucks drink?
Not a Starbucks fan tbh, if I had to order one I would just order a double espresso. Not really into fancy coffees. The fanciest I get is a coconut milk flat white.
2. What does your work station look like?
Messy at the end of the day. Then I tidy it before I go to bed. That way I have a nice clean desk in the morning.
3. All-time favourite food?
Dried, fried, NOODLES!
4. Favourite author?
All-time? Toni Morrison.
5. What do you think of open relationships?
I don't. Not for me, but you do you, friends.
6. What's your favourite video game?
Dungeon Keeper from 1997. I still play that ish.
7. What's your guilty pleasure treat?
Dried, fried, NOODLES!
8. Your favourite movie?
Ugh… this is too hard. Clueless always makes me happy.
9. Favourite book?
I adore Toni Morrison's "Song of Solomon".
10. Best advice you've ever received?
Be kind, to yourself as well.
11. Twitter or Instagram?
Instagram.
12. Are you a desktop or a laptop person?
Laptop but if I could afford it a desktop.
13. What projects are you working on right now?
My PhD, a novel, and myself!
14. What's your favourite colour?
Blue, sapphire to be specific.
15. Did you get good grades in school?
Medium. I am pretty smart but I don't really grade well.
16. Dream job?
An author that gets paid enough to live comfortably. I don't want to be a millionaire or anything, just enough to have a comfy life.
17. Played any sports?
I was only capable of running in a straight line, as I was too clumsy for team sports. So I ran track!
18. Do you have a degree?
Yes, I have a Masters degree and currently pursuing a PhD.
19. Nationality?
Am Irish. Top of the morning to you Jacksepticeye.
20. What's your favourite type of blog post to write?
Reflective.
21. What do you like to collect?
Books, rocks and weirdos.
22. Describe yourself in 3 words?
Silly, smart and sensual.
23. If you were a rapper, what would your rapper name be?
Thinking Moon…? ThINKin' Muun.
24. Who was the last person you DM'd?
My Mama! xxx
25. What's on top of your wish list right now?
A pair of boots from Koi Footwear. LIKE LOOK AT THEM!
26. Sorting House?
I am a Ravenclaw (with Hufflepuff tendencies).
27. How many tattoos do you have?
Hold on let me count…16… I think! Getting another one the day this post is out!
28. What are you most grateful for this year?
It's only the second week of January but I'm grateful for shaving my hair and having the balls to do it!
29. What's the best thing that's happened to you this month?
I got 420 views on my latest YouTube video. That's my most views ever on a video, and I got that in less than 24 hours.
30. What's the best thing that's happened to you today?
My mother-in-law came home with a veggie-friendly dinner for me because she is a badass.
31. What's the best thing ever?
THE GREEN BABY SQUISH!
32. Favourite season?
I adore autumn. The weather is beautiful and cosy but not too cold.
33. Favourite holiday?
Halloween is basically my Christmas. I can't wait to have my own house so I can throw a Samhain / Halloween feast on the 31st of October every year.
34. What fictional character do you relate to the most?
Really great question, I've always related to Tim Curry's character Dr Frank-N-Furter in "Rocky Horror Picture Show" because I am also loud and dramatic. Hopefully, I will be a Dr too someday.
35. Do you like surprises?
Sure of course! Le'Boo is good at present surprises, especially books.
36. What's the biggest surprise you've ever had?
Getting a phone call from Professor Amr Arisha offering me a PhD.
37. What surprise made you cry?
When Le'Boo got me a Kindle. It was like in "Beauty and The Beast" when Beast gave Belle the library.
38. What's the best surprise you've ever given someone?
I threw both my besties surprise 21st birthday parties and they had literally no idea. It was so much fun.
39. Do you like muffins?
… eh sure… Blueberry is my favourite.
40. Do you cook often?
Yes, I adore cooking.
41. What's your favourite dessert?
Not huge on dessert, I prefer starters to desserts. Perhaps some cheese?
42. Is there a dessert you dislike?
Yeah, I don't get birthday cake. You know the victoria sponge cake with jam and the awful icing?
43. Cake or pie?
Pie. I love Rhubarb tart…
44. What's your least favourite food?
Mushy peas… like… why?
45. What's your favourite condiment?
Mustard! It has to be English mustard though. I don't like the generic mustard you get in diners.
46. It's 4am on a Saturday night, what would you eat?
If I had a choice of anything, dried, fried, NOODLES!
47. If you could teach a college class, what would it be called?
Creativity 101: How to be more creative.
48. Best animated film?
"Beauty and The Beast" or "Toy Story."
49. What has a guy done or said to impress you?
My darling Le'Boo impresses me every day. However one day I was having a particularly bad anxiety attack and he said, "don't let the darkness get you."
50. The best thing to do on a first date?
Get some food, go for a walk, and have a chat. (I'm looking at you Le' Boo).
51. The worst thing to do on a first date?
Go to the cinema. How can you talk? You just sit in silence in the dark.
52. What's the funniest pick-up line a guy could use on a girl?
If he runs up to her, throws some ice on the ground and says, "just breaking the ice."
53. Best comic book character?
I don't read a lot of comic books, but I've always found Deadpool's tendency to break the 4th wall hilarious. So yeah, Deadpool.
54. What are three things that are always in your purse?
A book, lip balm and water.
55. Favourite drink?
Water for every day, Spanish red wine for occasions.
56. If you could play a historical figure in a movie who would it be?
Slyvia Plath. I love her and she was such a tortured soul, I feel like I could really portray that. (I'm so emo).
57. Kittens or puppies?
So tough but probably kittens.
58. Tell me your favourite sushi roll?
I don't have one, I've only ever had California rolls.
59. What kind of lipstick do you use?
Liquid Lippy preferably. I love purple on myself. Especially the kind with grey undertones. I also prefer matte lipsticks.
60. What kind of foundation do you use?
Boots own brand No7. It's not full coverage it's more like a tinted moisturiser with SPF. Sometimes I use Wet N Wild but it's not great. Actually do anyone you have a medium coverage foundation that lasts? Suggestions in the comments.
61. Blow-dry or air dry?
I rarely blow-dry my hair.
62. Who is your fashion icon?
I'm really feeling Billie Eilish at the moment, comfortable, androgenous and loud.
63. Favourite Disney Character?
This is really tough for me. I have Buzz Lightyear tattooed on my leg, but I've always loved loved loved Mulan. I'll give it to Mulan because I love a strong female character.
64. What are you doing tomorrow?
It's Saturday so having a chilled out morning with Le'Boo.
65. A movie you laughed the hardest through?
I saw "Step Brothers" in the cinema and I nearly peed my pants I laughed so much.
66. A movie that made you cry?
"Steel Magnolias." I watch it with my Mama and it makes us cry every time.
67. If you could sing a duet with someone, who would it be?
With Le'Boo! We could sing "don't' go breakin' my heart."
68. If your life was a song, what would the title be?
Synchronicities.
69. What's your favourite animal?
I've always loved pigs.
70. Favourite illustrator?
I've always loved Bill Watterson and his Calvin and Hobbs series. I have loads of the books.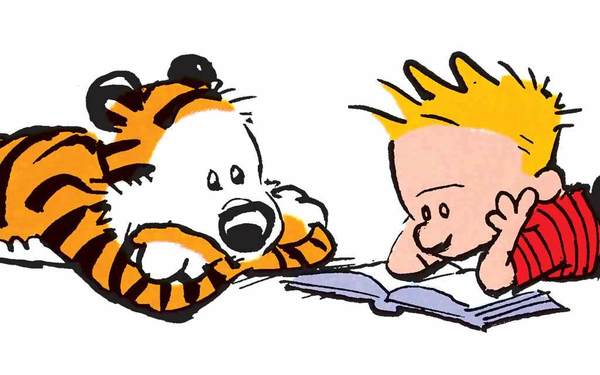 71. A person you want to have coffee with?
Stephen King.
72. What country do you wish to visit?
Le'Boo and I are dying to visit Japan!
73. Best way to decompress?
Reading in bed. My favourite past-time.
***update!
I forgot to nominate people for the tag because I am a dopey dope!
Lee Hall from – Lee's Hall of Information
Meagan from – Quibbles & Scribbles
Sheree from – View From The Back
Ricard from – Richard Bist
Copyright © 2020 Thinkingmoon.com – All rights reserved