Author: Steven Colborne
Preamble
Before we get into the nitty-gritty of the review I would like to thank Steven Colborne from Perfect Chaos for the opportunity to review his book. Though he and I have different perspectives on the nature of God, our philosophical interests are parallel. My background is in anthropology whose parent discipline is philosophy. Therefore I am no stranger to God and his prevalence throughout human culture.
I need to state firmly my own views on the matter. I believe the God that Colborne knows, is one that billions of humans have known, albeit by different names and experience. However, I do not believe God to be a singular being. This is where Colborne and I diverge.
Do not fret however, this will not affect either my ability to see from his perspective or the anthesis.
*I will refer to God through Male pronouns throughout as so intended in Colborne's book*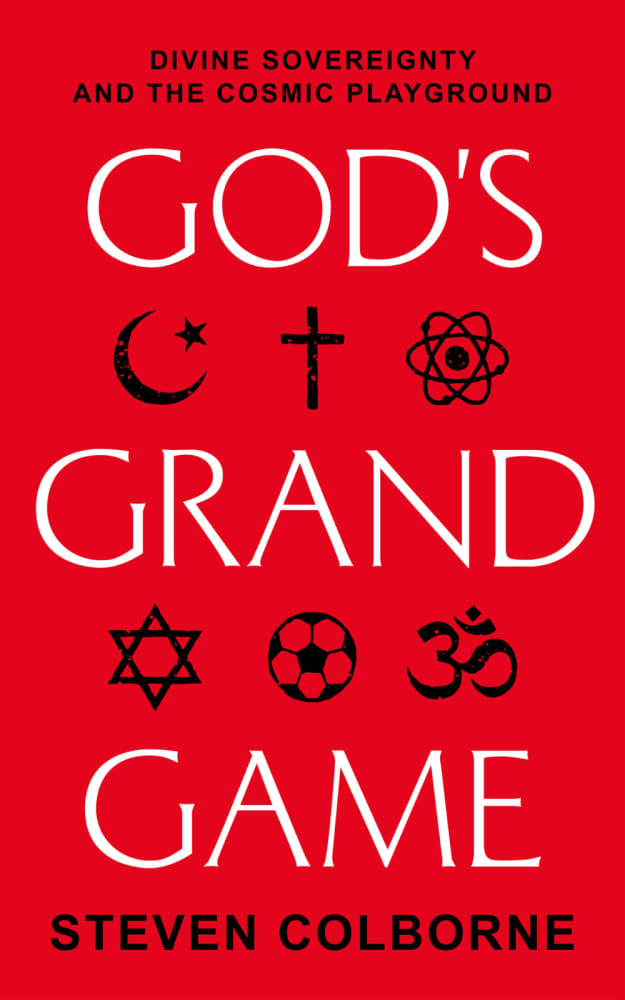 The Review
For work such as this, there is no need for worries of spoilers, as rather it is less a narrative and more philosophical. However, I implore you to read the work in-depth as my musings on the subject may be contrary to the views of others. Even that of Colborne himself. However, as he says in his work, this is how God wanted it. Some knowing of his existence, and those of us waiting in the wing for divine interaction.
So Colborne introduces himself first and his story was not an easy one to read. In his contemporary life, he has discovered a type of stasis, however, with illnesses inherent to him, he proclaims this may be taken away at any time. Such is the will of God.
It is also important to me that you do not mistake Steven for a man of blind faith, who have never known anything else. From reading his blog alone you would know this, and in his introduction, he explains his deep interest with all things spiritual since his teens.
In Part 1 we are introduced to the nature of God. Which can be summoned up by His omnipresence. He states his case quite clearly through the lens of scientific endeavours:
"Even scientists, who are very successful in describing how things happen, generally agree that they cannot say why things happen."
The argument here for Colborne is linked with the philosophical paradigm of determinism. God is all there is, we are a part of God, however, he exists outside of us. Therefore he is all-powerful and knows how our lives will play out.
In Part 2 we are guided through the human experience, in which Colborne is certain is curated by God. Why he is certain of this is simple. We are used to experiencing things in a certain way, through a certain set of laws.
When something outside of these perceptions happened, rather than chalking them down to anomalies or mistakes, Colborne assures the reader that this is through the desire of God. It is because God is a higher being, that we cannot experience everything he does. In certain cases, he allows us a small window into his nature. Colborne asks that rather than dismiss these anomalous experiences we should accept them as God's outer life.
Scientist have grappled for centuries with the concept of 'thought'. Where does 'thought' come from? How does it arise? Now with modern science researchers have pinpointed the moment the brain sends the signals to, for example, move an arm. They have not, however, pinpointed the decision or the why.
Colborne makes it quite simple, this is God's will. He is managing our every movement.
"If we consider the nature of God, particularly His attribute of omnipresence, it makes sense that He is controlling our conscious experiences because His being permeates every atom in existence and every cell of our bodies."
For someone who has studied anthropology and humankind so closely, I cannot help but agree with Colborne to an extent. Although humans have spread ourselves across the planet, we have things that are so unique to us as a species that it appears wherever we are. The concept of God is universal and in favour of Colborne's argument, this may be God's own way of showing himself to us.
In our modern world, the war between science and religion has gotten us nowhere. I have often been an advocate for the inter-disciplinary cooperation of scientists and theologians. For many centuries now, scientists have been doing the work philosophers in ancient Greece once had the pleasure of.
Now more than ever we need to listen to, and read about experiences had by human beings such as Steven Colborne. In my opinion, his belief in God is not a dirty secret or an unfortunate quirk. There are many people I love who both believe in God and many who do not. With all the varieties in between.
There is no denying that Colborne has done his homework, and he entertains the philosophies of those who would be considered his opposite. In Part 4 he discusses the American Philosopher Sam Harris, who is a prominent figure surrounding materialism and free will. Harris believes that all we are is physical, and this matter is calling the shots. Whereas of course, Colborne argues this is nonsensical. How can inanimate matter create the diverse realms of thought that humans enjoy?
"How something that is purely material could create awareness of the kind that human beings experience is an area of ceaseless confusion for neuroscientists."
There is also the espousal of the major world religions, (not discounting the thousands of others he would not have had time to mention). Colborne is not dismissing your version of God. His simple truth is this. God is omnipresent and God is our creator (at birth and each and every moment of our lives).
Colborne wants what I think is lacking in the Christian faiths (among others) of the day. A modern church were a scientific debate is not only welcomed but part of the general practice of religion. A church of God which has thrown off the shackles of the cruelness of human doctrines, and allow only love to flow. An inter-faith dialogue, a safe place for everyone, in which to look at God from all unique perspectives and experiences of the human condition.
There is room for everyone in the debate so I would ask for the comments to be respectful, and I implore you to read this book. There is more benefit here than you realise.
Conclusions & Further readings
For my own piece of mind I would like to point out that while Colborne believes that God creates all human art, I feel that our crazy, beautiful, individual minds produce these things. Also my disposition is to always push back against determinism, however, God may have made me that way.
For those of you who are intensely religious, I mean neither disrespect or dismissal. If there is kindness in your intent, there is room for you in this debate. In reading Colborne's book I experienced nothing but due considerations for all faiths.
Finally, I deeply respect Steven Colborne, for all he's achieved even through pain and adversity. Although we don't always agree, I cannot dispute that his arguments are not only well thought out, but well researched.
As I mentioned in the preamble my anthropology background implores me to mention Sir James Fraser's, "The Golden Bough."
Available from Amazon.
Also reading Steven Colborne's other books wouldn't go amiss seeing as they will give you more to the story that is his spiritual path.
Also available from Amazon.
Copyright © 2019 Thinkingmoon.com – All rights reserved